Walking-friendly roads lead you past fishing huts, an old swamp harbor, the stately Öresund Bridge and Bunkeflo's beach meadows with rare plants and animals.
The cozy quarters with street houses in Gamla Limhamn emerged in the early 19th century when the fishing industry took off. The colorful fishing heads were used by the fishermen to store their gear, today there is still activity here but on a much smaller scale than a hundred years ago.
On gravel, asphalt and paths, you walk on to Sibbarp, where you can visit the cold bath house or check out the popular skate park. In the small bay or in the "Sumpehamnen" as it was called in the past, you see a few more fishing huts. During the 1920s, Lund Cathedral owned the small piece of land and they didn't want to know of any filling in on your land, that's how Sumphamnen came to be.
Wander on towards Lernacken, a headland that is largely artificial and consists of residual products from Limhamn's lime quarry, which is located a short distance away. Here you have a magnificent view of the Öresund Bridge, which was inaugurated in 2000. The Öresund connection includes a 7.8 km long bridge and a 4.1 km long man-made island called Pepparholmen.
Bunkeflo beach meadows are Malmö's first nature reserve, here you can find a number of rare plant and animal species such as Danish iris, beach red top and pimpinella rose. Every year the meadows are flooded with salt water, which means that only specially adapted plants can survive there. On the sandy bottom there are eelgrass meadows which are important for biodiversity and which function as a playground and shelter for, among other things, crayfish, eels and pike.
The slightly smaller and leafy Klagshamn beach offers crystal clear water and several bathing jetties for those who want to take a refreshing dip. There is also a climbing frame, toilets and showers here.
In close proximity to large parts of the stage, there are buses if you want to hop on and off along the stage.
7-15 km
Barnfamiljer
Kustnära
Kollektivtrafik
Skåneleden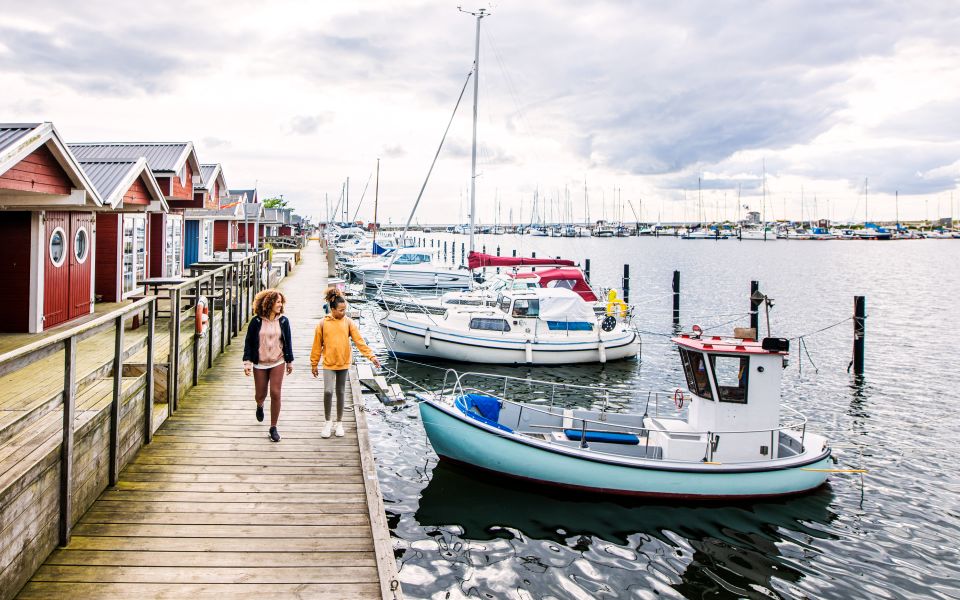 Highlights along the section
Are you looking for a place to stay or a cozy cafe during your hike? Here are some of the sights and places to visit along the section.
Hiking suggestions
Do you find it difficult to know where to start your hike? Here is some inspiration and a selection of recommended hikes - short and long, with or without accommodation or based on different themes.
Show all
News
Here you will find information about what's new on the trail as well as current redirections and disturbances.
Show all
Share your moments
Share your adventures on the trail by tagging your photos with #skåneleden or #skaneleden.